Boom barrier for traffic light R6
To reduce the risk of red light driving and increase safety around road works, traffic routing with traffic lights, guards or pilots can be reinforced with a barrier. Physically preventing vehicle traffic from entering the work area significantly increases the protection of working personnel on the road. Traffic light R6 controls the lowering of the barrier. At a red light, the barrier folds down quickly and folds up again when the traffic light changes to green. The barrier is used together with existing or new traffic lights R6 / R6 +. Note that traffic light and battery are not included.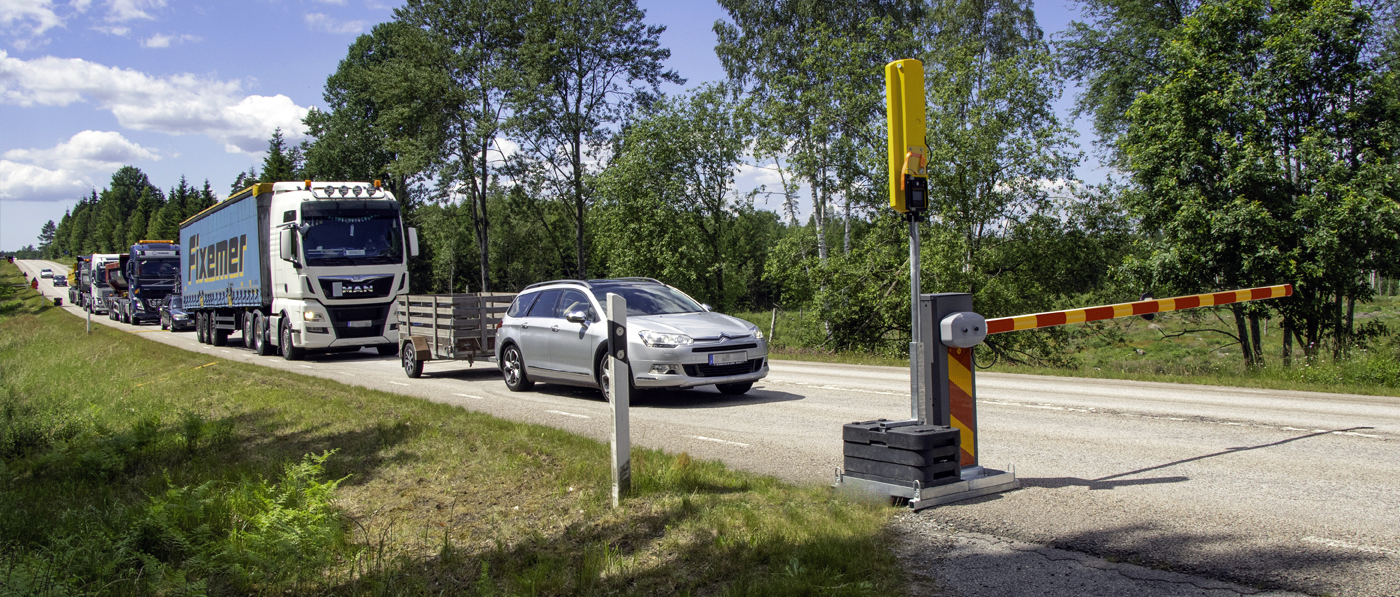 Sensors detect if a vehicle is under the boom
The barrier has sensors that detect vehicles when lowered. If a vehicle should be in the wrong place, the barrier folds up again and waits for about 5 seconds before starting a new folding. The barrier has a red stop light that is activated during felling.
With boom barrier you get:

automatic, fast-lowering boom barrier

traffic light R6 controls the folding up and down of the barrier

the battery is hidden inside the base and the cables are concealed inside the pole

the traffic light and the barrier run on the same battery

the barrier has sensors that detect vehicles when lowered

Manage your barrier and traffic lights from BerlexConnect


How to build a STABIL base unit
The lowest base are hollow so you can hide the battery. The STABIL base unit is equipped with lifting loops if you want to crane out a finished unit, but it can just as well be picked up or apart if you are out working alone.

Our cloud-based service is easily accessible - wherever you are
Whenever you are online, you have access to BerlexConnect – from any computer, mobile or tablet. The software is delivered, administered and updated by your browser. BerlexConnect is constantly evolving. New functions are continuously released as software updates and are easily handled in your browser. On our website, in newsletters and social media, we announce when updates are planned and what benefits this means for you as a user.

With the BerlexConnect app, you administrate your connected products and systems remotely as well as operate and update other features. With personal logins, several employees of the same company or depot can help monitoring and manage the operation of units world wide. The app lets you know where your devices are situated, track them in real-time, check the battery level and much more.


Curious to learn more?
If you want even more detailed information – technical specifications, manuals and product sheets – you can find them here. Of course, you are always welcome to contact us if you have questions or need help.

Manual - stay tuned, information is coming