50 years in the service of road safety
The family business Berlex was founded in 1972 by the visionary Thomas Bergendahl. Since then, we at Berlex have contributed to saving hundreds, maybe even thousands of lives! Thomas is still active in the company but today in a slightly more laid-back role with strategy and product development on his agenda. With a new CEO and succession among the owners, a new spirit with optimism, courage and big visions has taken place. Since the beginning of the 2020s, the company has shifted its focus from products to systematic solutions, from Sweden to the global arena.

Core values
Confident, curious and open minded! We are innovative and visionary and we constantly develop new ideas and strive for a traffic-safe world for everyone who uses the road as a workplace. With confidence and an open-minded curiosity, we help our customers to solve their problems in the most efficient way, and ensure that they stay as safe as possible in dangerous traffic environments.
Vision
Your safety. Our vision is crystal clear. We really want to make a difference. Vision Zero has always been the guiding light that has shaped our work and created our dream image. No one should have to lose their lives in traffic!
Mission
Achieving Vision Zero! We call our largest contribution to Vision Zero Intelligent Traffic Systems. With the help of high-tech information technology, we can today, among other things, offer the market an innovative, cloud-based SaaS service with associated connected products that all have in common that they significantly increase safety on our roads.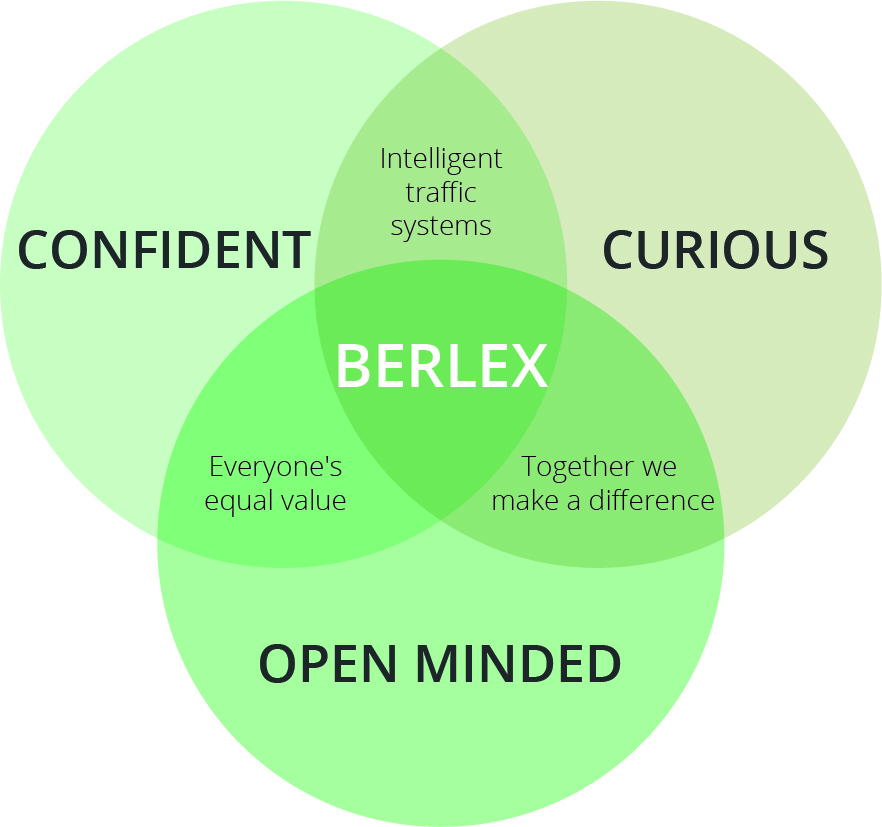 We are Berlex. We continue to strive for a traffic-safe world and welcome everyone who wants to join us on the journey as employees, customers or partners. Together we make a difference!