Technical specification - R6 portable traffic light


Housing:
PEHD
Height:
980 mm
Width:
300 mm
Dept:
160 mm
Weight:
10 kg
Fitting:
60 mm Ø pipes
Carrying handle:
Yes
Runtime battery:
1x100Ah: 10-14 days
2x100Ah: 20-25 days
Runtime solar power*:
1x100Ah +50W: 180 days
2x100Ah + 160W: 240 days
Voltage:
12V
Battery exchange:
No interruption. Internal battery take over when battery is exchanged.
Distance:
Unlimited, terrain independent
Modes:
VA/Radar, Fixed time, manual control, (flashing amber for some markets)
Communication:
Mobile network 2G/3G
Control unit:
2-phase system: local control from display on each unit back
Service:
The complete signal head has no moving parts that need servicing
Software:
is upgraded online
*Measurement values in Gothenburg february to november, with 100Ah batteries. Values may vary due to different weather conditions.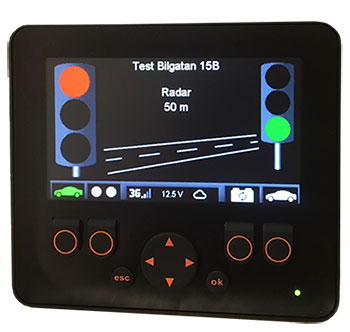 Clear and simple display
A clear and simple display showing signal status, battery voltage and signal strength.
It also showing the distance between signals and green time requirement (vehicle detection).
BerlexConnect – cloud service
BerlexConnect cloud service allows you to take control of all your signals via your smartphone, tablet or PC.
| | |
| --- | --- |
| Functions: | ON/OFF, time settings, system settings, alarms, demand for green time |
| Supervision: | Shows actual phase on each signal, battery level, angel, position, radar detection, signal strength, demand for green time |
| Alarm notification: | Via e-mail |
| Alarms: | Low battery, red lamp failure, green lamp failure, communication lost, internal electronic failure, angle failure, crash alarm, change in position during run time |
| Log: | Stored for the last 48 hours |