Pedestrian traffic lights
There are two variants of mobile, signal-regulated pedestrian traffic lights: a lighter variant supports multiphase and consists of a complete transition signal with pole and stand that hides and protects cables and batteries. The big fully welded stand, has a crown and a transition signal at the top and is supplemented with two temporary traffic lights R6. The big fully cast stand has room for four batteries. If you want to extend the operating time even more, it can advantageously be supplemented with a solar cell. Both variants are administered from the cloud service BerlexConnect, which you control via your mobile, computer or tablet.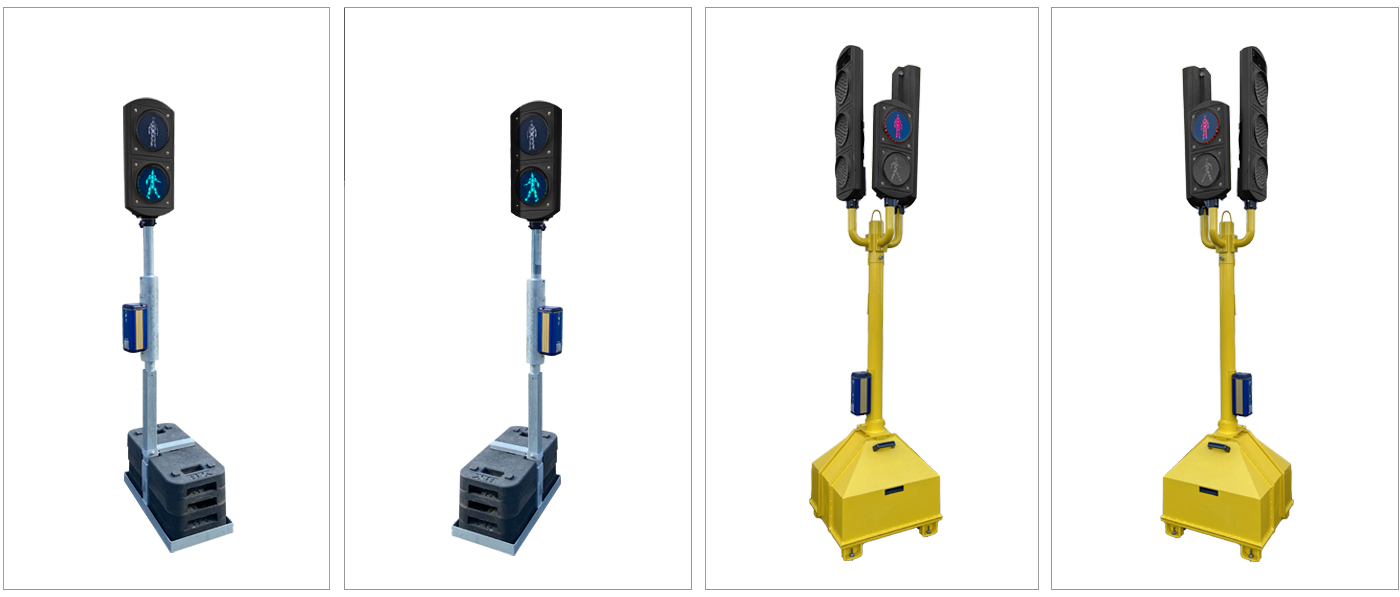 Push button with sound and light acknowledgment
Both variants are equipped with a push button that emits sound, light and other tactile information that can be read using both sight and touch, for example through vibrations and raised symbols and blind text so that even people with visual or hearing impairments will know when it is safe to pass. The built-in noise control ensures that the volume is adapted to the environment.

Our cloud-based service is easily accessible - wherever you are
Whenever you are online, you have access to Berlex¬Connect – from any computer, mobile or tablet. The software is delivered, administered and updated by your browser. BerlexConnect is constantly evolving. New functions are continuously released as software updates and are easily handled in your browser. On our website, in newsletters and social media, we announce when updates are planned and what benefits this means for you as a user.

With the BerlexConnect app, you administrate your connected products and systems remotely as well as operate and update other features. With personal logins, several employees of the same company or depot can help monitoring and manage the operation of units world wide. The app lets you know where your devices are situated, track them in real-time, check the battery level and much more.


Curious to learn more?
If you want even more detailed information – technical specifications, manuals and product sheets – you can find them here. Of course, you are always welcome to contact us if you have questions or need help.

Product sheet Big pedestrian traffic light


Product sheet Portable Pedestrian traffic light